As a reminder, Progress is a family company founded in 1985, based in Apt in the Vaucluse, located in the Burgundian area, which continues to develop from father to son on the French territory and internationally.
Progress' values are based on its history, know-how and interpersonal skills.
The year 2023 will focus on the construction of an annex, the 5th building, for the new premises of the Directorate and the Commercial Department.
The continuous increase in activity motivates us to look for new profiles with different skills and soft skills, or even to undertake job creations, all departments combined.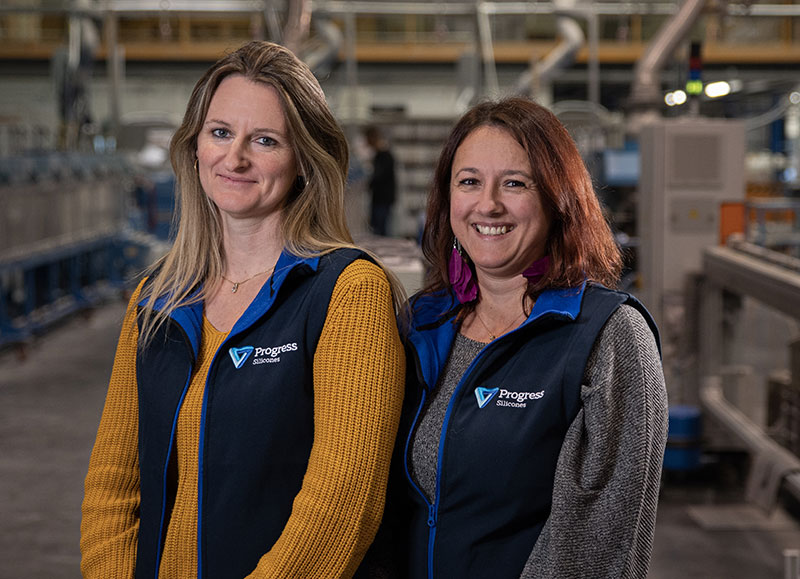 Sophie and Aurélie – HR Department
We are currently 90 employees and each employee is accompanied throughout his career in the company.
We recruit up to 10 positions in administration and production and wish to welcome them and retain them to our human-sized structure.
For operator positions, no qualifications or diplomas are required. At Progress we are looking for personalities with human qualities.
Do not hesitate to contact us by phone or email to discuss it, we also have the opportunity to meet you face-to-face or remotely.
Job offers are available on Linkedinon Indeed, and on our site, below.
The 3 stages of recruitment

1- To apply, we invite you to send us your CV accompanied by your cover letter, Upon receipt you will receive our response by email within an estimated one week.
2- If your application meets our criteria, a first telephone interview will be arranged with you. Following this first step, the choice of a 2nd face-to-face or remote interview will be determined.
3- To validate the technical skills, a 3rd on-site interview with the Head of the department concerned, will confirm if your profile is in line with the requirements of the position.
At the end of the last interview, we will send you our decision as soon as possible.
Progress Silicones, spécialisé dans la production de pièces en silicone et autres élastomères pour l'industrie et le médical depuis 1985, de la pièce unitaire à la grande série, réalise tout type de pièce par moulage, surmoulage, extrusion, co-extrusion, confection et découpe. Dans le cadre du développement de notre structure, nous recherchons un(e) collaborateur(trice) supplémentaire au sein de notre société.
Reporting to the Team Leader, your main missions will be:
Start-up and production of extrusion machines according to procedures
Assembly and cleaning of equipment
Performing in-production product controls and completing the associated documentation
Preparation of products by winding, winding, specific packaging
Motivation, team spirit and rigor are essential elements for this position.
Technical knowledge and plan reading are essential.
The schedules are posted in 2X8, the position is based on APT (84) and does not require any travel.
With equal skills, this position is open to employees with disabilities.
Please send your CV and cover letter by email to:
Ms. GANET Sophie: sg@progress-silicones.fr
Ms. BONNEFONT Aurélie: a.bonnefont@progress-silicones.fr
or by mail 201 Traverse de Roumanille – ZI Les Bourguignons – 84400 APT
You can also send your CV and cover letter to the attention of Mrs BONNEFONT Aurélie a.bonnefont@progress-silicones.fr or by mail to the following address: PROGRESS SILICONES, ZI Les Bourguignons, 84400 APT